Collaborative Divorce Lawyers in Jacksonville
Helping You Reach an Amicable Resolution to Your Divorce
Not every divorce needs to be a contested battle between you and your spouse. By approaching the situation with an idea of cooperation, and a family lawyer who encourages such behavior, you might be able to avoid fights altogether. Owenby Law, P.A. can help you with collaborative divorce to save yourself time, money, and energy.
Why choose Owenby Law for your collaborative divorce?
We have 125+ years of combined legal experience.
We have successfully managed thousands of cases.
We have achieved an A+ Rating from the Better Business Bureau.
We provide free initial consultations for up to 30 minutes.
How Collaborative Divorce Processes Work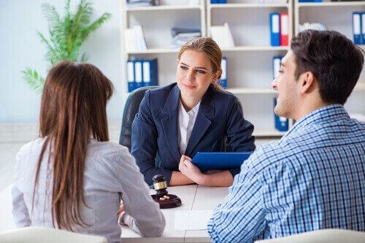 In collaborative divorce, the underlying goal is reaching divorce decree agreements without needing to go before a judge to do so. Not only can this process speed up your divorce, it also keeps control of all the decisions in your hands. This is particularly useful for divorces that involve child custody and child support.
To conduct a collaborative divorce, you and your spouse each need to retain a family law attorney to represent you during collaborations. Both or all lawyers sign an agreement to step out of the case if collaborative efforts are not successful and the divorce needs to go to court. This reinforces the idea that cooperation is the priority.
All parties will set a collaboration schedule for meetings, often in a law office. At each meeting, you and your spouse will try to come to agreements on the usual matters that come up in a divorce. You can even have your lawyer act for you if you are not comfortable talking about the legal specifics yourself.
Unlike mediation, your Jacksonville collaborative divorce attorney will be there to uphold your best interests, but does so in a way to not spark the conflict and make matters worse.
You Deserve an Honest Legal Advocate – Call Us Today
Your divorce is unlike any other due to the many pieces of your marriage and private life. At Owenby Law, our Jacksonville divorce lawyers respect your case for the unique situation it is and always offer personalized representation and solutions – never a cookie-cutter option.
Find out how our honest, compassionate approach to casework can benefit you by calling (904) 770-3141 today.