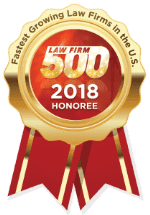 Owenby Law, P.A. Has Been Recognized as One of the Fastest Growing Law Firms in the U.S.
The legal industry is full of innovation, promise, and excitement, and, at Owenby Law, P.A., we are leading the way. Our firm has grown by 180 percent in the past 3 years, and we are proud to announce that we have been ranked #80 out of all 250 of the 2018 Law Firm 500 honorees.
Much of our success and recent growth are due to our strategic leadership, consistently positive results, and commitment to providing great service for our clients. We understand that happy clients are more likely to return and recommend us to friends, family members, and colleagues, which is why we focus on being accessible, compassionate, and effective when handling cases of any kind.
Experience the Difference by Connecting with Our Jacksonville Family Lawyers
At Owenby Law, P.A., we primarily practice family law. We help our clients navigate complex family matters, such as:
Given our convenient location in Jacksonville, Florida, we are also able to serve military service members and their loved ones in resolving family matters, which may be more complicated due to military service. We are proud to provide high-quality legal representation for members of our community who are currently serving or have previously served in the United States armed forces.
We may also provide representation for people seeking counsel and representation in matters pertaining to:
If you are need of legal help, we are prepared to meet with you, evaluate your case, and help you assess your options. Connect with a member of our team as soon as possible to schedule your consultation.
Call (904) 770-3141 to speak to a skilled, experienced attorney at Owenby Law, P.A.
Read more on Owenby recognition here: 2018 LAW FIRM 500 HONOREE