Family Law Attorneys in Jacksonville, FL
We've Helped Thousands of Families
At Owenby Law, P.A., we assist families throughout Jacksonville, FL with all types of family law matters. We are known for putting the needs of our clients first in everything we do, so you can trust that your case will be in good hands when you turn to us for help.
Whether you are filing for divorce or you need help establishing paternity, you can count on our firm to be by your side throughout every step of the process. Contact us today or give us a call at (904) 770-3141!
Why Hire Our Family Law Firm?
We have represented thousands of cases
We possess more than 20 years of experience
We will start your case with a FREE initial consultation
We work as a team on every case we handle
At Owenby Law, P.A., You're Treated as More Than Just a Case Number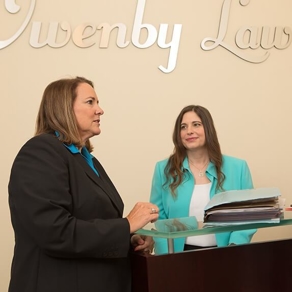 Over the years, Owenby Law, P.A. has represented thousands of clients. This has allowed us to gain a better understanding of how to approach family law cases.
When handling a family law matter, every member of our team pitches in so that we can draw from each other's strengths. Placing ourselves in the shoes of those we represent has allowed us to deliver legal services that are compassionate and empathetic. Should you choose to retain our services, you can feel at ease knowing that our Jacksonville family lawyers are safeguarding your rights and interests.
At Owenby Law, P.A., we assist clients with a wide range of family law matters, which may include:
Ready to Get Started? Contact Our Firm to Request Your FREE Initial Consultation! -
(904) 770-3141
Legal matters can lead to many concerns and questions, especially at the start. We understand this, which is why we are here to give you the answers you need. After carefully reviewing the details of your case, we will create a strategy that is designed with your needs in mind.
We wish to help you understand your options and the extent of your rights so that you can make informed decisions for yourself and your family's future. When you contact the Jacksonville family law attorneys at Owenby Law, P.A., your initial consultation is free. Call us today to get started!
Get the caring and compassionate guidance you need. Contact Owenby Law, P.A. at (904) 770-3141.