Filing for Divorce in Jacksonville
Contact Owenby Law, P.A. for a Free Consultation
No decision is more stressful or difficult to make than filing for divorce. No one knows this better than Owenby Law, P.A., which is why we strive to provide our clients with the high-quality and caring services they need to get through the divorce process.
Whether your divorce is contested or uncontested, we can take care of all the paperwork on your behalf so that you can focus on preparing for the next chapter in your life. We place the utmost concern in our clients' unique and personal concerns, and always fight to protect their interests.
Thousands of Clients Represented – More Than 15 Years of Legal Experience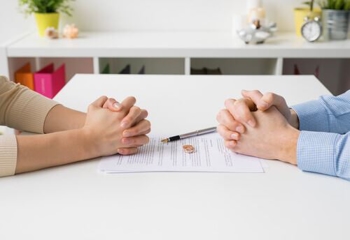 Making the decision to end your marriage is never easy. Fortunately, you don't have to face this difficult time alone. The Jacksonville divorce lawyers at Owenby Law, P.A. have been serving clients throughout the area for more than 15 years. Over the years, we have helped thousands of clients work through complex family law matters – including divorce.
We are compassionate and dedicated to serving our clients' needs.
We have helped thousands of families throughout Florida
Our team has more 15 years of experience
When we take on a new case, we work together as a team
We'll start your case with a FREE, no-risk consultation
We put ourselves in your shoes, which allows us to understand where you are coming from. This can make all the difference in your case. As our client, your case may also benefit from our team-based approach. With thousands of cases behind us, Owenby Law, P.A. has the resources and experience required to prepare you for divorce. When you work with us, you will always be treated as more than just a case number.
We Offer an Experienced, Comprehensive Approach to Your Case
Our lawyers have the breadth of experience needed to foresee and effectively handle the curveballs and challenging matters that often arise in family law. Our comprehensive approach draws from decades of collective experience representing men, women, and families who were all navigating unique legal and personal journeys. We have the ability to handle all matters related to divorce, from child support and concerns of domestic violence to property division and prenuptial agreements.
Our close proximity to military bases in Jacksonville and the surrounding areas of Florida has enabled us to create a successful practice helping members of the armed forces and military spouses navigate the unique legal aspects of military divorce.
With practices in bankruptcy, estate planning, and probate, we also have the insight to address certain financial and familial concerns that may coincide with divorce and family law.
Call a Jacksonville Divorce Lawyer for a Free Review:
(904) 770-3141
Because no two cases are exactly the same, we are prepared to build and implement a personalized strategy specifically for your divorce. At Owenby Law, P.A., we don't take a "one-size-fits-all" approach. Instead, when you are being represented by our firm, you can have peace of mind knowing that our firm will protect your rights and interests. Let us take care of the paperwork so you can start moving on with your life.
If you are ready to take the first step, please call Owenby Law, P.A. today. Your initial consultation is FREE and confidential.