Divorce Attorney in Jacksonville
Contact Owenby Law, P.A. for a Free Initial Consultation
No decision is more stressful or difficult to make than filing for divorce. No one knows this better than Owenby Law, P.A., which is why we strive to provide our clients with the high-quality and caring services they need to get through the divorce process.
Whether your divorce is contested or uncontested, we can take care of all the paperwork on your behalf so that you can focus on preparing for the next chapter in your life. We place the utmost concern in our clients' unique and personal concerns, and always fight to protect their interests.
Thousands of Clients Represented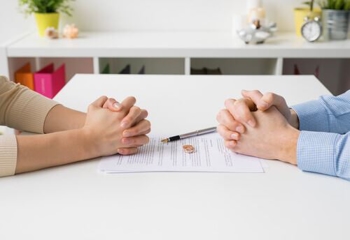 Making the decision to end your marriage is never easy. Fortunately, you don't have to face this difficult time alone. The Jacksonville divorce lawyers at Owenby Law, P.A. have been serving clients throughout the area for more than 18 years. Over the years, we have helped thousands of clients work through complex family law matters – including divorce.
Giving an Experienced, Comprehensive Approach
Our divorce lawyers in Jacksonville have the breadth of experience needed to foresee and effectively handle the curveballs and challenging matters that often arise in family law.
Our comprehensive approach draws from decades of collective experience representing men, women, and families who were all navigating unique legal and personal journeys.
We have the ability to handle all matters related to divorce, including:
Our close proximity to military bases in Jacksonville and the surrounding areas of Florida has enabled us to create a successful practice in helping members of the armed forces and military spouses navigate the unique legal aspects of military divorce.
With practices in bankruptcy, estate planning, and probate, we also have the insight to address certain financial and familial concerns that may coincide with divorce.
We are compassionate and dedicated to serving our clients' needs.
We have helped thousands of families throughout Florida
Our team has more 18 years of experience
When we take on a new case, we work together as a team
We'll start your case with a FREE, no-risk consultation
We put ourselves in your shoes, which allows us to understand where you are coming from. This can make all the difference in your case.
As our client, your case may also benefit from our team-based approach.
With thousands of cases behind us, Owenby Law, P.A. has the resources and experience required to prepare you for divorce. When you work with us, you will always be treated as more than just a case number.
The Importance of Preparing for Your Divorce
If you are ready to file for divorce, you should know that planning ahead can save a great deal of time and money, and reduce stress. Planning ahead will help you make decisions regarding how you will live your life both during and after divorce.
One of the first things you should do is gather financial paperwork.

This is often time-consuming and unpleasant, so it is best to get it out of the way. Florida law requires the parties in a divorce proceeding to exchange certain financial information. This is known as mandatory disclosure.

You should also make an inventory of your possessions.

You can even take photographs or videos of your possessions. This will help document the assets that are subject to equitable distribution. It will also help if assets are missing or sold later, which often happens during a divorce.

Finally, one of the most important things you can do is consult a lawyer.

If you attempt to handle this process on your own, you risk taking action that could have a negative impact on your case. For example, simple acts such as moving out of the home could have a detrimental effect on your divorce.
Common Questions About Divorce in Florida
What Is a Contested vs. Uncontested Divorce?
When a couple can agree on how to go their separate ways, their divorce is considered to be "uncontested." When a couple cannot agree on how to settle their divorce, a judge will decide on property division, child custody, and alimony.
These kinds of divorces can be lengthy, expensive, and emotionally draining. By working together, our attorneys at Owenby Law can help safeguard your interests until the very end, whether your divorce is contested or uncontested.
What Steps Are Involved in the Divorce Process?
If you are looking at getting a divorce, the first thing you should do is contact an attorney to find out what your rights are and what you are entitled to.
When pursuing divorce, the first paperwork you will file is called a "petition for dissolution of marriage," which is served on one of the parties. The party who receives the petition then has 20 days to answer that paperwork; he or she will file responsive pleadings, asking what he or she wants the court for.
There is then 45-60 days of discovery, during which time you and your spouse will be disclosing financial paperwork. Once all the financial paperwork is disclosed, the next step is mediation. If you settle at mediation, there will just be a short final hearing. If you don't settle at mediation, you will go to trial 2-3 months later.
If custody is at issue, there will be about 3 - 4 months of a custody evaluation, which we call a "social investigation" in Florida.
When Is My Divorce Final?
In order for an uncontested divorce to be finalized, a petitioner must appear before a judge, which does not require either member of the divorcing couple to be present.
In contested divorces, a final divorce hearing, which requires both divorcing parties to be present, must occur. Couples may disagree on at least one major point and cannot resolve it together, which requires the court to settle the matter instead. When the finalization of a divorce depends on the notoriously clogged and inefficient court system, it can take more than six months.
Ultimately, a divorce is final as soon as a judge signs a court order to dissolve your marriage and hands down the terms of your divorce. A marriage technically ends when the court order is signed, but it is only finalized when that signed judgement is officially placed into the court records.
How Long Does Divorce Take?
The length of time it takes for a divorce to become final often depends on whether it is contested or uncontested. If a couple agrees on all terms of a divorce, from property division to child custody, their divorce could be final within 1 - 2 months.
A divorce will take anywhere from 3-6 months as long as everyone is compliant during the discovery process. If child custody is an issue, then you would need to consider another 3-4 months, on average, on top of that timeline.
Is Mediation Required During a Divorce?
In Duval, Clay, Nassau, and St. John's Counties, mediation is required before going to trial.
Can I Change Attorneys in the Middle of My Divorce?
Yes, you can change attorneys in the middle of your divorce case if you're not happy with your current attorney. However, it will require a court to enter an order that designates a new attorney as your attorney of record.
What If My Spouse Cleaned Out Our Bank Account?
You can ask for the court to order the other spouse who has depleted all the marital assets from the marital account to return those proceeds. Because Florida is an equitable distribution state, you and your spouse are legally entitled to an equal share of your marital property, unless the court determines otherwise.
Can an Out-of-State Divorce Be Enforced in Florida?
Yes. An out-of-state divorce decree can be enforced in Florida and it also can be modified. But in order to receive modifications, you are required to be a Florida resident. Additionally, if children are a part of this modification and enforcement, they need to be Florida residents as well.
Call a Jacksonville Divorce Lawyer for a Free Review:
(904) 770-3141
Because no two cases are exactly the same, we are prepared to build and implement a personalized strategy specifically for your divorce.
At Owenby Law, P.A., we don't take a "one-size-fits-all" approach.
Instead, when you are being represented by our firm, you can have peace of mind knowing that our firm will protect your rights and interests.
Let us take care of the paperwork so you can start moving on with your life.