Jacksonville Military Divorce Attorneys
Need Help with a Military Divorce? Contact Owenby Law, P.A.:
(904) 770-3141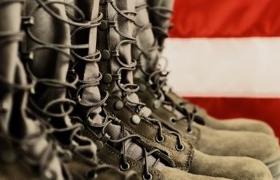 If you are a soldier stationed at home or abroad, we at Owenby Law, P.A. understand the difficulty and stress that Marines, Army, Air Force and Coast Guard personnel have with constant travel and relocation requirements.
It is difficult enough for most families, but great distances and multiple long deployment periods away from spouses and children creates a very high divorce rate among military personnel.
Over the years, Owenby Law, P.A. has helped thousands of clients navigate the Florida divorce process— including military personnel and military spouses. When you work with our Jacksonville divorce attorneys, you can rest easier knowing that you have a team of legal advocates in your corner.
Our entire firm works together on every case we handle because we are committed to securing the best possible results for our clients.
Handling Military Divorces in Florida for More Than a Decade
One of the biggest concerns that military men and women face when they begin the process of dissolving their marriage is what will happen to their military pension if they get divorced. Owenby Law, P.A. has been handling military divorces since 2004 and is dedicated to helping U.S. military families around the world. We can help you facilitate an equitable military divorce if either you or your spouse is a Florida resident.
Military divorce can be broken down into two distinct types, both of which introduce unique considerations:
Divorce involving service members who are actively serving in the military
Divorce involving former military service members who have retired
We help military personnel facilitate a divorce through phone conversations, mail and e-mail. Our team works quickly because we understand the stress that soldiers endure in the service of their country. Our military divorce lawyers work diligently to ensure that your career and/or pension remain intact. We know the ins and outs of the military retirement system and military benefits, such as a thrift savings plan or "TSP."
Discuss Your Options with a Military Divorce Lawyer in Jacksonville, FL
If you are in the Florida National Guard unit or any other reserve unit in Florida along with being a full-time member of the Air Force, Army, Marines, Navy or Coast Guard, we can help you with your pending divorce. We can also assist you with child custody, visitation, and pension matters if necessary. Military life is tough, but our professional staff at Owenby Law, P.A. is at your service no matter where you are stationed.