Grandchild Adoption Lawyer in Jacksonville
Reliable Guidance from Jacksonville Family Lawyers –
(904) 770-3141
Filing to adopt your grandchild is usually not a straightforward procedure. There can be a number of legal complications and interruptions that slow down or halt the process. To get paperwork and legwork out of the way of your grandparent adoption, come to Owenby Law, P.A. in Jacksonville. Our adoption attorneys believe in the importance of bringing families together through adoption, and we will do everything in our ability to make certain legal complications do not delay such an important outcome.
Ready to begin the adoption process of your grandchild? Contact our law firm today.
When Can a Grandparent Adopt a Grandchild?
Grandparent adoptions and other relative adoptions are somewhat unusual in that you will be trying to adopt in the absence of or in spite of the child having related parents. You are not given automatic custody rights in Florida as a grandparent. As such, you will need to show the court that you should be given the right to adopt your grandchild.
Grandparent adoptions may be necessary and gain court approval in the following circumstances:
Both parents are unavailable: Possibly the most common reason why grandparent adoptions succeed is that both parents have become unavailable and will be for the foreseeable future. Becoming unavailable is a generalized term that describes a number of unfortunate circumstances, such as both parents passing away, going missing, being incarcerated, or being displaced for military responsibilities.
Both parents are deemed unfit: In some situations, both or the only available parent of a child may be deemed unfit for parenting rights and have them removed by a family law court. A parent can be unfit due to a history of domestic violence, negligence, drug abuse, and any other behavior that could endanger the child, including living in squalor. A grandparent may gain the right to adopt their grandchild in response.
Proving You Can Take Care of Your Grandchild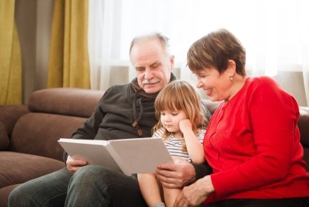 In Florida, grandparents and other relatives generally do not need to be subjected to a home study by the Florida Department of Children and Families (DCF) before being permitted to adopt a young family member. A family law court judge must always rule in favor of a child's best interests, though. Due to this legal prerequisite, the court may still want you to show you are capable of taking care of your grandchild.
Our Jacksonville adoption lawyers know the ins and outs of adoption cases in Florida, and we can apply our 125+ years of combined experience to your case to make certain you present the right evidence and arguments to the court, if need be. You can depend on us to be your legal guide from start to finish, including initial adoption petition filings and responding to any inquiries for more information. We genuinely want to help you grow and strengthen your family through grandparent adoption.
Find out more about grandparent adoption during a free initial consultation with our firm - (904) 770-3141.