According to Guinness World Records, the U.S. has the 3rd-highest divorce rate in the world. Maldives and Belarus rank #1 and #2, respectively. While it's no surprise that the U.S. is one of the top countries for marriages ending in divorce, this infographic illustrates some statistics you may not know.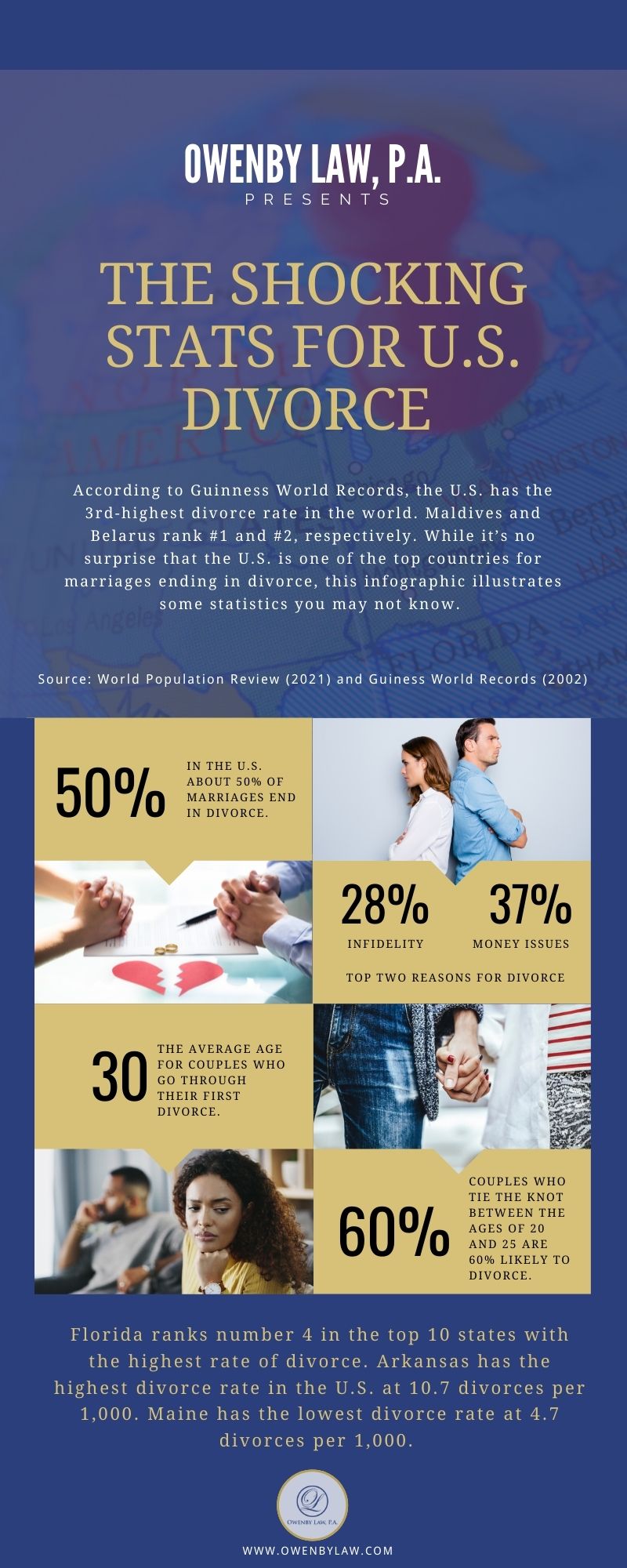 Divorce Statistics in the United States
In the U.S. about 50% of marriages end in divorce.
The average age for couples who go through their first divorce is 30.
Couples who tie the knot between the ages of 20 and 25 are 60% likely to divorce.
Top two reasons for divorce: money issues (37%) and infidelity (28%) and
Florida ranks number 4 out of the top 10 states with the highest rate of divorce. Arkansas has the highest divorce rate in the U.S. at 10.7 divorces per 1,000. Maine has the lowest divorce rate at 4.7 divorces per 1,000.
Where to Turn For Help When Considering Divorce
Deciding to divorce isn't an easy decision to make, and many questions can go unanswered. When you are unsure where to turn for help, Owenby Law, P.A. is here to answer your questions and address your concerns. Having an experienced and supportive divorce lawyer on your side can make the process go much smoother. We are ready to protect your rights and best interests.
Contact Owenby Law, P.A. today at (904) 770-3141 to schedule a free initial consultation with our team.
Sources:
World Population Review
https://worldpopulationreview.com/state-rankings/divorce-rate-by-state
Guinness World Records
https://www.guinnessworldrecords.com/world-records/highest-divorce-rate